Our heartfelt congratulations to those who serve or have successfully completed their
IOFF-Subspecialty Fellowships!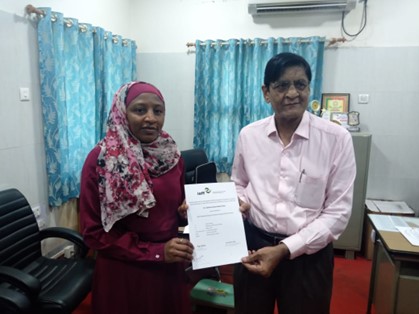 Dr. Safinatu Mohammed Wada from Nigeria: Cataract Surgery
Sponsor: Ophthalmology Foundation, USA
Host: Dr. Vikas Mahatme at Mahatme Eye Bank and Eye Hospital, Nagpur, India

"I was able to improve my surgical skill and I also acquired new surgical skills in Cataract Surgery (Phacoemulsificaton and Small Inicsion Cataract Surgery) under the guidence of Dr. Nikhilesh and other trainers. I have become more proficient and confident in doing Cataract Surgery.
The hospitality at Mahatme Eye Bank and Eye Hospital was great, I had the chance to see some historical sites in Nagpur and made a lot of friends during my training. I enjoyed the Indian delicacies, especially the Hyderabad chicken biryani.
I would use the skills acquired in trying to combat the commonest cause of avoidable blindness. I will also train other trainees at my home institute.
Thank you for the opportunity!"
(Here in the picture she is with her trainer Dr. Anil Wairagade.)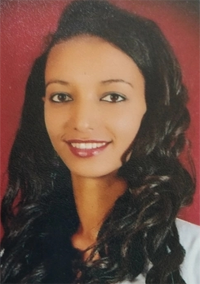 Dr. Fikerte Adele Enedalew from Ethiopia: Cornea and External Diseases
Sponsor: Carl Zeiss Meditec AG, Ursapharm GmbH and AMO Germany GmbH Johnson and Johnson (all from Germany)
Host: Prof. Gullapalli Rao at LV Prasad Eye Institute in Hyderabad, India (12 months)

From a letter to her sponsor:
"This is Dr Fikerte Adelle Enedalew, an ophthalmologist from University of Gondar – Ethiopia. (…)
At this point, I would like to place on record my gratitude to you as your kindness has allowed me to pursue my IOFF -Subspecialty Fellowship.
Your generous donation to the fellowship program has enabled me to enjoy a hands-on training in one of the prestigious institutions in the world. LV Prasad Eye Institute is equipped with all the highend diagnostic and therapeutic equipment. The consultants are highly experienced and well respected internationally. The cornea clinic is one of the busiest in the center where more than 300 patients with different corneal issues are seen daily.
The training program is well structured and highly organized. In the first month, we had induction courses that included scientific lectures in all areas of ophthalmology. We also received training on management and leadership skills.
Afterwards, I was assigned in service areas that have direct connections with my cornea training. This includes the eye bank, microbiology and pathology laboratories. During my rotation in these service areas, I did not only observe how they do their jobs but also trained how to do basic laboratory techniques. Now, I am able to do basic laboratory tests by myself that help to make a better decision during patient management especially in emergency hours where lab technicians may not be available.
In the second month, besides my posts in the outpatient department and the operating theatre, I was assigned in dry lab (simulator) training with one-to-one mentorship to learn basic microsurgical skills. This has helped me to refine my skills and learned new tips and technique from the mentors.
I am granted clinical practice permit from the National Medical Council of India. Thus, I have the privilege to evaluate patients in the out-patients department and do surgeries in the operating theatre under supervision of my consultants.
Currently, I am being given the opportunity to operate on patients with different ocular conditions in my area of training. I am hoping to get more surgical exposures in the months to come. I am also using the wetlab to learn new surgical techniques that has improved my confidence while operating on my patients.
overall, it has been a very successful three months at LV Prasad so far for me. I hope the remaining months also be very fruitful. Completion of my full training will make me the first fully trained Cornea specialist in Ethiopia. This gives me the high drive and enthusiasm to learn new surgical skills to transfer them back home that will transform our residency training program and the service we provide to a higher level.
I will be the first fully trained cornea and anterior segement specialist.
Thank you once again for sponsoring this scholarship!
Dr. Fikerte Adele Enedalew"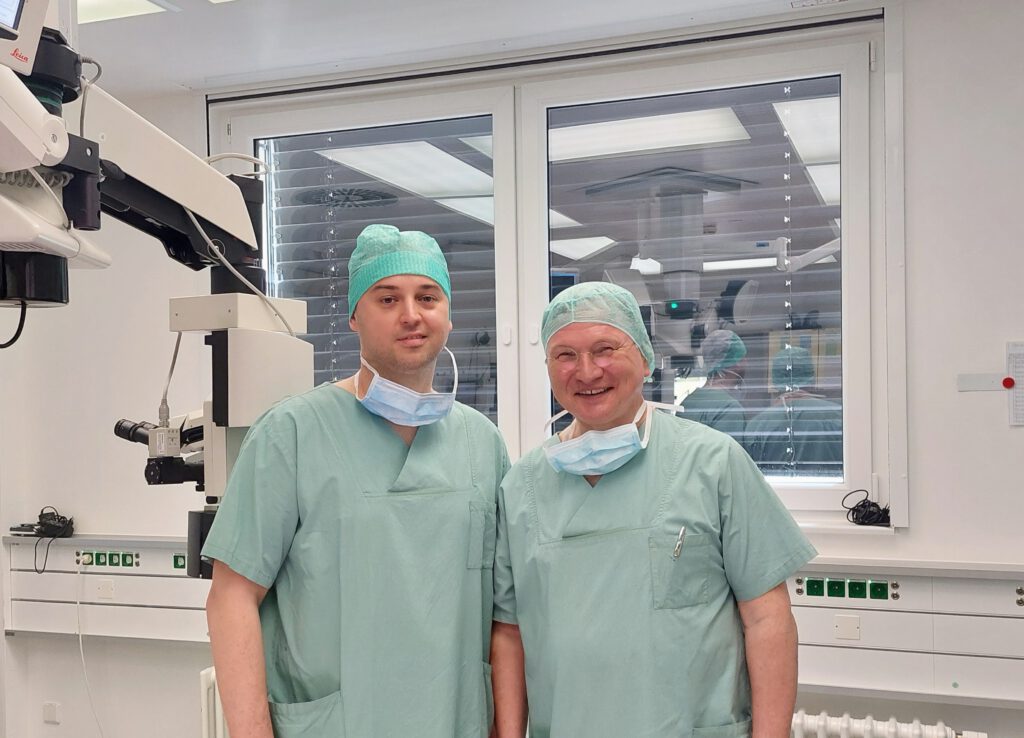 Dr. Ranko Gvozdenovic from Serbia: Cornea and External Diseases
Sponsor: OphthalmoPro GmbH, Germany
Host: Prof. Berthold Seitz ML at University of Saarland, Dept. of Ophthalmology in Homburg/Saar, Germany

"I am very grateful to the IOFF Fellowship team, my sponsor Mr Thomas Zimmer for giving me this opportunity for clinical and surgical improvement. Under the mentorship of Prof Berthold Seitz, I learned many new surgical principles, gained a broader insight into the use of modern diagnostic technologies, improved my clinical deduction, and improved my engagement in scientific research. I also got an insight into a very good system of knowledge transfer from older to younger colleagues. I am very grateful to other colleagues and staff of the clinic for their hospitality, scientific and technical support. I hope that acquaintance and friendship will continue in the future. I think that this training program came at the right time in my career, so that I could transfer and use my new knowledge in the best possible way in my country. Through my further work, both clinically and surgically, I want to achieve goals I set for myself as a doctor who wants to deal with anterior segment eye pathologies. I will gladly recommend to all my colleagues to apply for an IOFF Fellowship award program."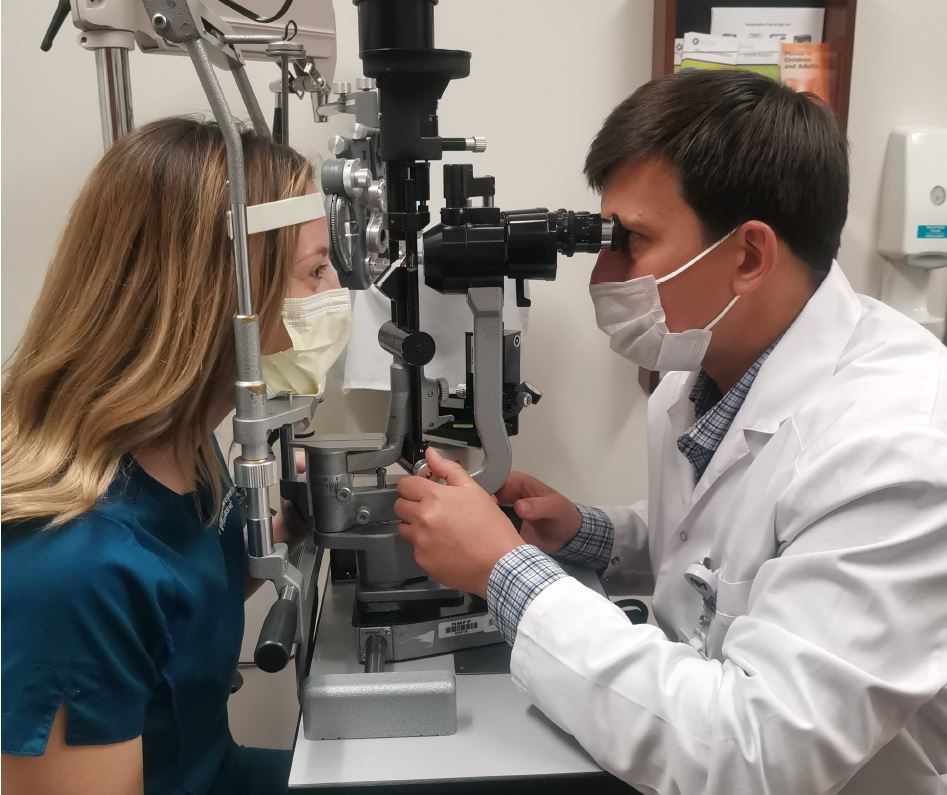 Dr. Anton Chudin from Russia, Oculoplastic
Sponsor: Ophthalmology Foundation, USA
Host: Prof. Nicholas Volpe, Northwestern University, Dept. of Ophthalmology in Chicago, IL, USA

"I am grateful for the chance the Ophthalmology Foundation gave me. This fellowship programs is unique opportunity to improve the professional level as a specialist, get a life-changing experience, meet interesting people and make friends. I have finished my three months observership in Oculoplastic, gotten to know modern techniques and ways to manage cases of ptosis, dacryostenosis, eyelid malpositions and deformation, eye evisceration and enucleation.

After becoming a full-fledged Ophthalmologist, I have realized that there was a group of patients that I knew I could help but I did not have enough knowledge and experience. The Oculoplastic subspecialty was my next step I wanted to become better at. You gave me the unique chance to broaden the spectrum of surgeries I can perform now and acquire a theoretical up-to-date basis that has made me confident in my management plan for many patients. Despite having no hands-on training in Northwestern Memorial Hospital, I could observe many cases and ask any questions from great people and professionals who shared their knowledge with me and treated me very kindly. Now I can build up the new information on my previous experience, which makes me feel confident that I will be able to manage Oculoplastic cases in my country after coming back. Moreover, I have several cases planned at the end of this month."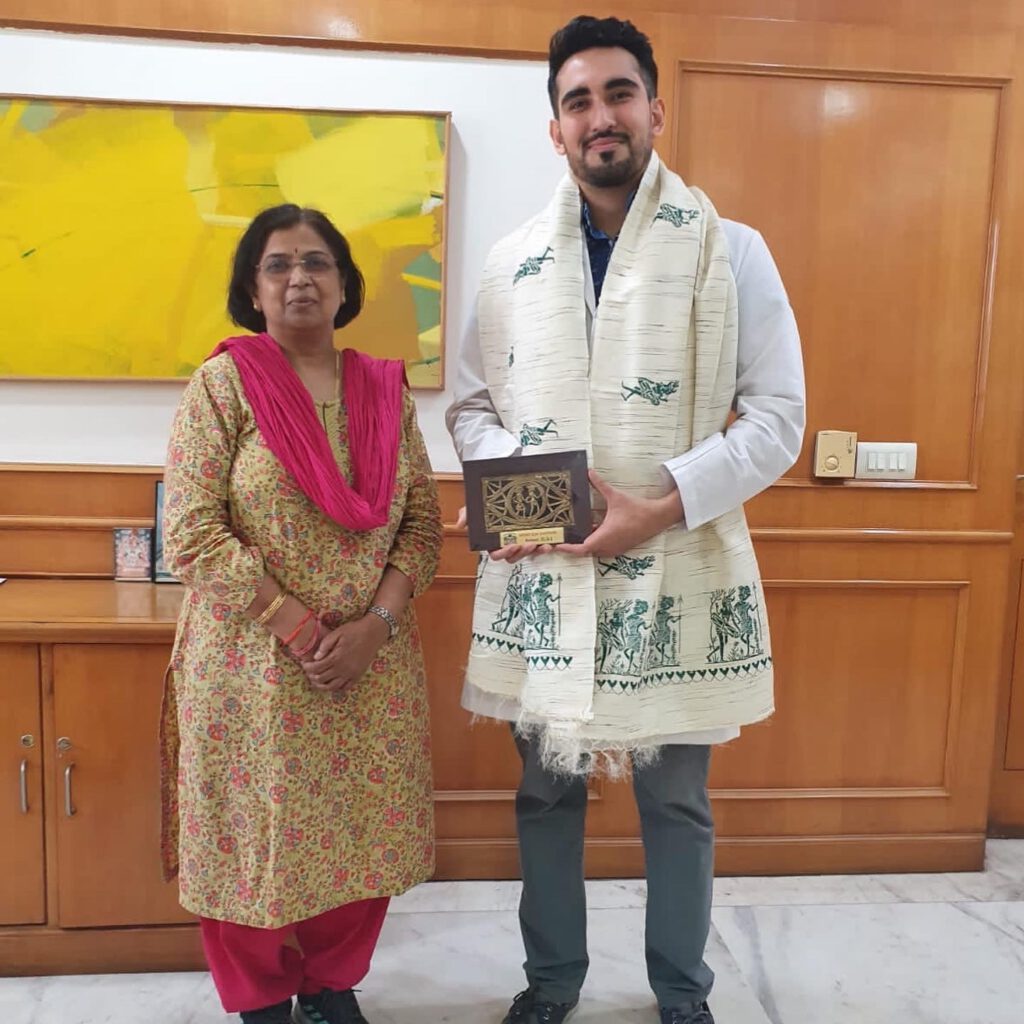 Dr. David Berrones from Mexico: Cataract Surgery
Sponsor: Ophthalmology Foundation, USA
Host: Dr. Deepshikha Agarwal at MGM Eye Institute in Raipur, India

"Hello everyone, I'm David from Mexico, I just completed a 3 months cataract surgery fellowship in India at MGM Eye Institute. During this time I learned how to properly perform SICS having no previous experience in this technique. I thought about doing this program for a long time (somewhere between 2 to 3 years) so if you find yourself in the same hesitation, please listen to me: Don't be. Apply now.
It is very redundant to write about the hands-on experience you gain here, but for us surgeons, it is important to mention, so: yes, you learn a lot and you learn well. These months will be a life-changing time, you will expand your surgical experience in ways you never imagined and most importantly, your mindset and goals will change forever. There is no way of understanding how much poor people need us until you live it, and we ophthalmologists have the great blessing that we can perform a surgery that can change people's lives forever; learning how to do it without expensive machines or a high budget, increases exponentially the number of lives you can change in the future. Of course, needless to say, it is not going to be easy, you will have to experience a big cultural shock and you will realize there are so many things outside your -big or small- bubble.
Believe me, if you decide to apply for this program your life will change forever, and after you finish it, you will become a better surgeon and most importantly a better person. So, if you take the leap and decide to join this amazing program, you will never regret it. I sincerely hope that for you, just as for me, this will be a watershed moment from which things will never be the same."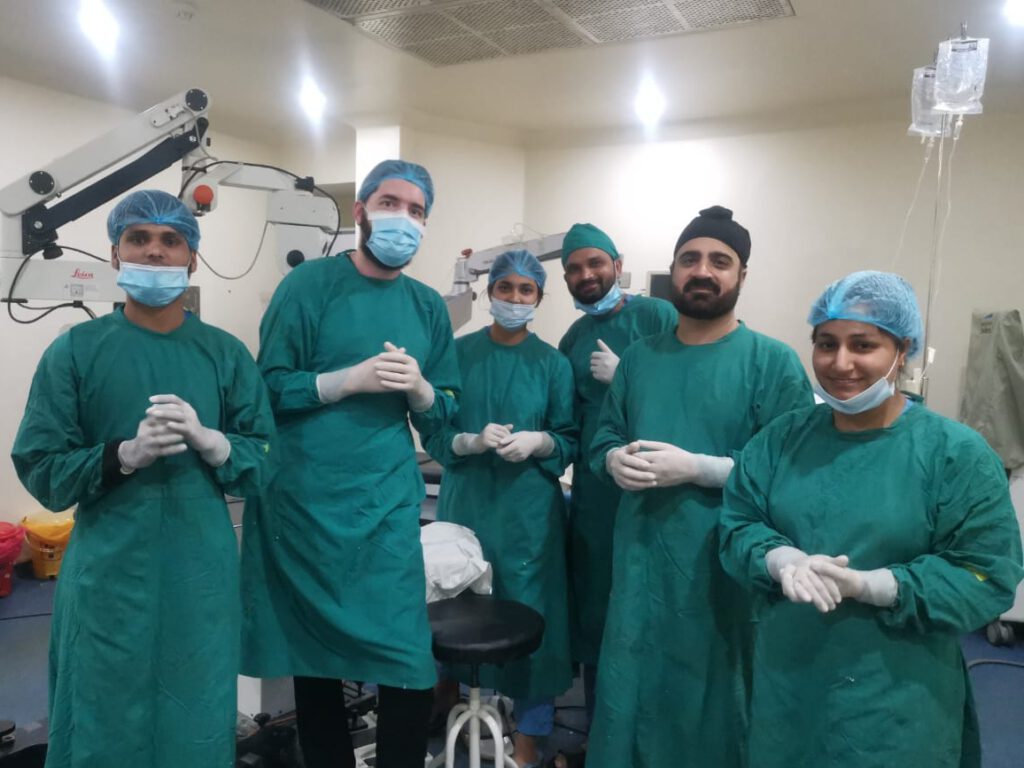 Dr. Ciprian Maftei from Romania: Cataract Surgery
Sponsor: OmniVision GmbH, Germany
Host: Dr. Amandeep Singh Arora at Arora Eye Hospital and Reetina Center, Jalandhar, India

"A short but meaningful life changing journey. I found sharing to be the norm here, being surgery, life experiences, cultural, soft skills or food. Dr. Amandeep Singh and his team opened their arms and hearts to welcome me. As for surgery, the experience so far was enriching and my expectations were exceeded."
(Dr. Ciprian Maftei is second from the left, Dr. Amadeep Singh Arora is 2 from the right)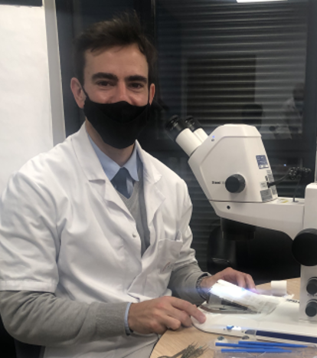 Dr. Juan Manuel Lopez from Argentine: Vitreoretina
Sponsor: Retina Research Foundation, USA
Host: Prof. Eric Souied at CHU Creteil, France

"My sincere thanks to Prof. Alice R. McPherson for being the founder of this wonderful program, by generating resources and helping ophthalmologists to make the path to their professional dreams and they will obtain a training of excellence being able to choose between the best ophthalmologists in the world.
To Prof. Souied I write respectfully to thank you for the great growth opportunity you have given me by accepting me as part of the Intercommunal Hospital of Creteil, as well as to thank you immensely for your great help and collaboration in the implementation of my retinal fellowship. Thank you for allowing me to be part of this great team that is characterized by having an optimal working environment and excellent scientific bases. The Intercommunal Hospital of Creteil is of the highest level that far exceeded my expectations, at the forefront in scientific and technological knowledge.
This Fellowship will help shape my career and contribute to my professional development.
With this Fellowship, I hope to be able to diagnose diseases at an early stage and provide patients with multiple treatment options, including cutting-edge therapy. I also hope to pass on my experience and knowledge to the next generation of ophthalmologists.
I would like to thank Mrs Cordula Gabel-Obermaier immensely for the excellence in her work, for being always available, to be cordial and her constant help, as well as the project IOFF leaders Prof. Peter Gabel and Prof. Berthold Seitz together with Retina Research Foundation (RRF) for helping young ophthalmologists evolve and find their dreams."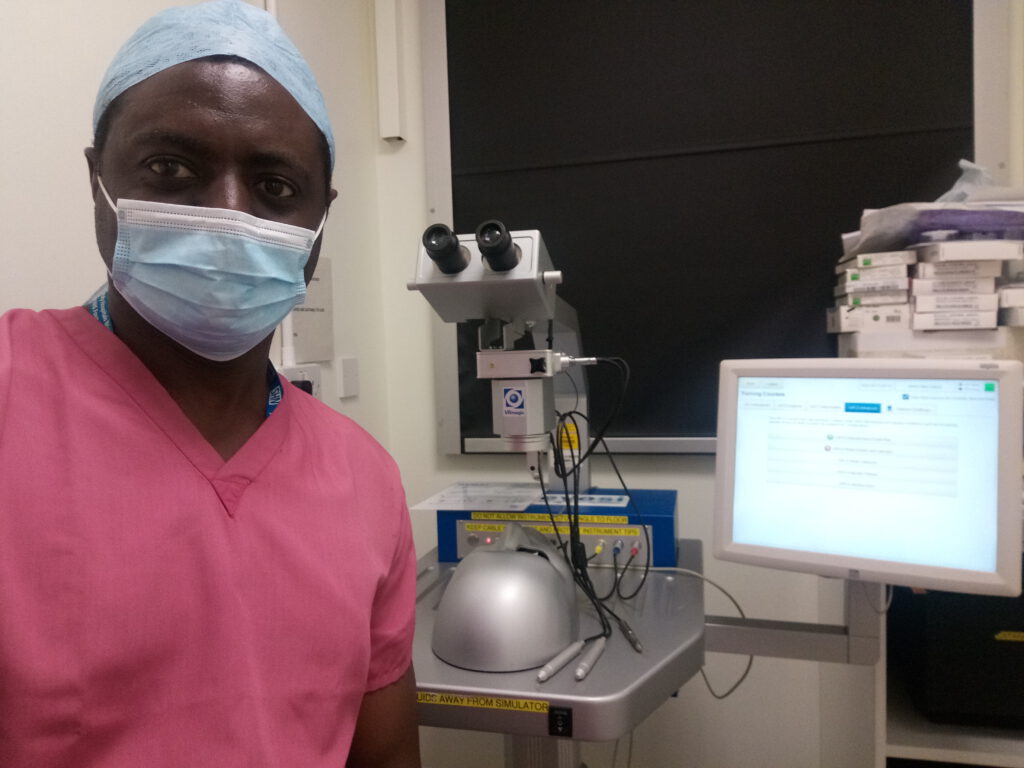 Dr. James Lokoja Ajige from Nigeria: Glaucoma
Sponsor: Prof. Michael Kaschke, Germany
Supervisor: Prof. Bani Sebastian, Bristol NHS in Bristol UK

"I have accompanied the consultants (3) and glaucoma fellows (3) in their complex glaucoma clinics where decisions on patient care are made, post-op patients are reviewed and minor clinic procedures are performed.
In the theatre, I observe as various surgeries are performed – trabeculectomies, cycloablation, phaco/i-stent, tube surgeries like Ahmed tube surgeries, preserflo mini tube, and Paul's tube.
I also engage in so some practice with a phacoemulsification simulator."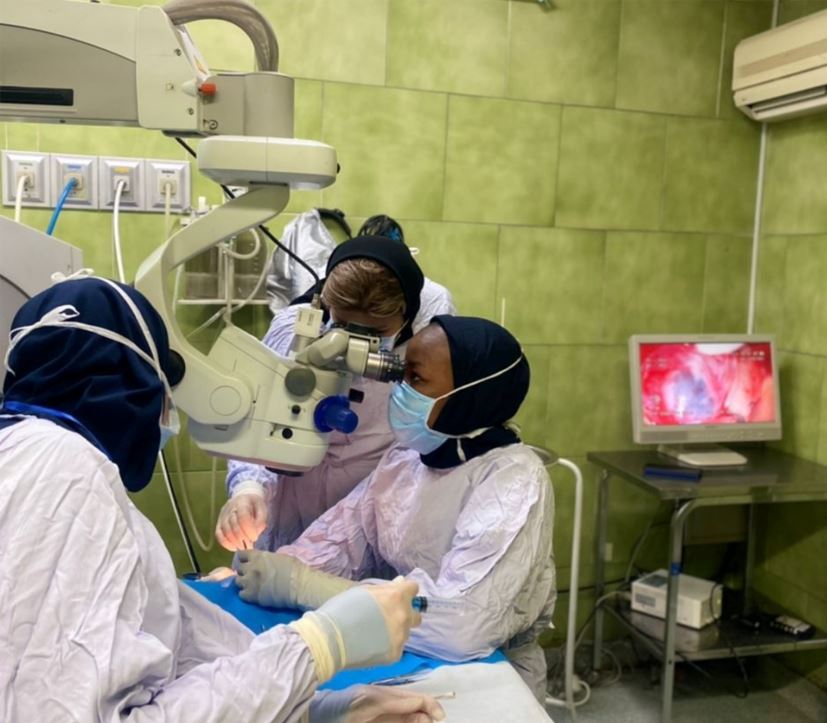 Dr. Sedoten Dagbeyon Bashorun from Nigeria: Cornea and External Diseases
Sponsor: Coronis GmbH, Germany
Host: Prof. Alireza Peyman FEIZ Hospital in Isfahan, Iran

"My Experience at Isfahan is one that I will remember for a very long time for many good reasons, Right from the airport, I was amazed at the kindness and hospitality of my host and the people of Isfahan.
They made me settle quickly and I felt at home despite the vast difference in our culture. I have learnt new skills at the Feiz hospital. Everyone was willing to share their knowledge with me and I leant a lot from the clinic, operating room and presentation sessions. This acquired knowledge and skills will definitely lead to an improvement in my practice and patient management. I am most grateful to IOFF and the Feiz hospital for this rare but unique opportunity. I have had a very fruitful and rewarding time at the Feiz hospital and Isfahan".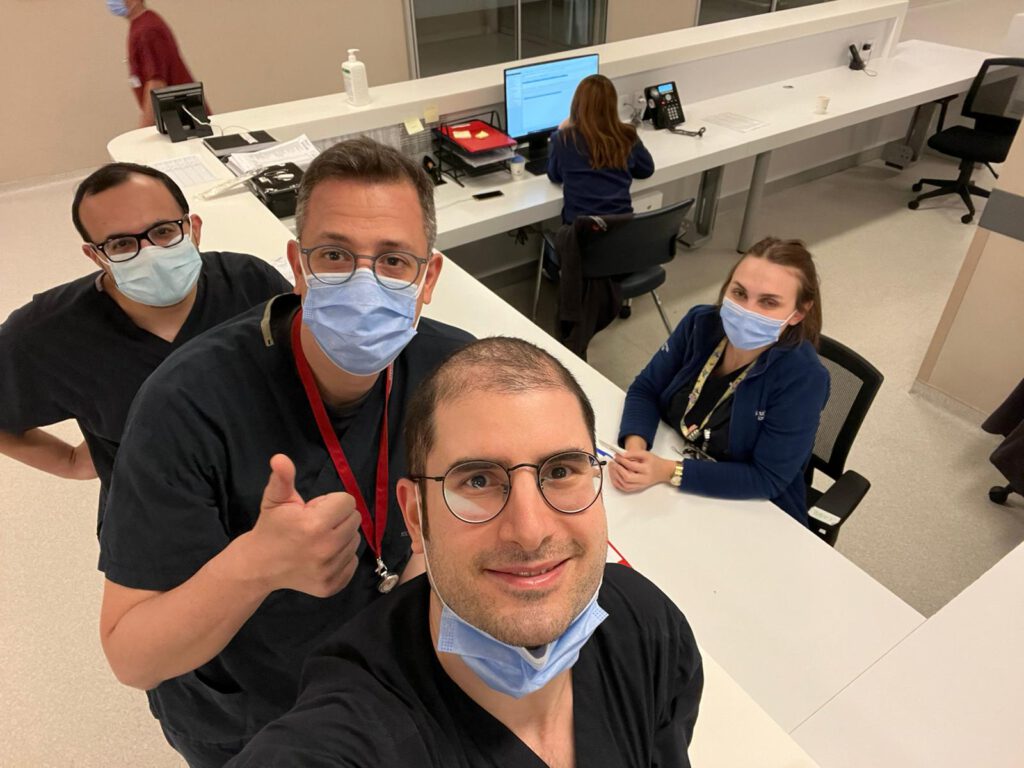 Dr. Zahed Khaled Chehab from Lebanon: Vitreoretina (12 months)
Sponsor: Dr. Rolf M. Schwiete Foundation and Carl Zeiss Meditc AG, both Germany
Host: Prof. Murat Hasanreisoglu and Dr. Cem Kesim KOÇ University, School of Medicine in Istanbul, Turkey

"My first experience was really amazing from first moment I met with Prof. Murat Hasanreisoglu. He and Dr. Cem showed me most of the hospital and helped me to get around. In every minor detail he guided me even outside the hospital. And regarding the training Prof Murat is very informative, and he always involves me in dealing with the patients from examination till decision making. So I feel this will be a great year.
I would like to thank my sponsors, Rolf M. Schwiete Foundation and Carl Zeiss Meditec AG, for giving me this great opportunity, and surely I will take advantage of every moment of my Fellowship to become a better ophthalmologist."
(Dr. Zahed Khaled Chehab is shown very left in the picture.)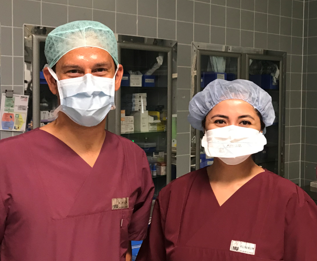 Dr. Duygu Gulmez Sevim from Turkey: Glaucoma
Sponsor: Mr Rolf Schwind, SCHWIND eye-tech-solutions, Germany
Supervisor: Prof. Marc Mackert at Ludwig Maximilian University, Dept of Ophthalmology in Munich, Germany

"I am grateful to the IOFF Fellowship Board, my sponsor Mr. Rolf Schwind, owner of SCHWIND eye-tech-solutions GmbH and the Ludwig-Maximilians University of Munich, Department of Ophthalmology for giving me this wonderful opportunity. I learned so many things during my observership under Dr. Marc Mackert and other excellent professors, as well as attend outpatient appointments with ophthalmologists.
I had a great experience that extended my horizons in the field of ophthalmology. I have been able to significantly enhance my surgical skills and knowledge in the field of glaucoma both in diagnosis and management. The fellowship program was the best possible path for improvement both for me and my institution hopefully leading to a successful career in glaucoma which I had cordially desired."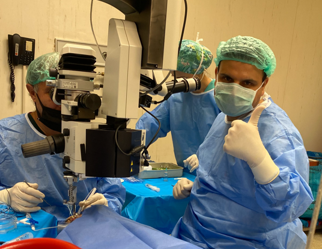 Dr. Omer Othman Abdullah from Iraq: Vitreoretina
Supervisor: Prof. Huseyin Oksuz at Dunyagoz Hospital, Adana, Turkey

"I'm very Im happy as Prof. Huseyin Oksuz teaches me the secrets and
tricks in both surgical and medical retina that he got through 25-30 years
of his own experience. What a charming fellowship."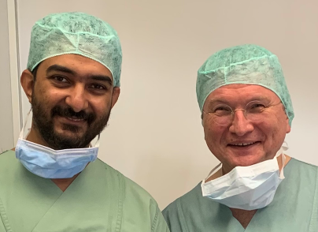 Dr. Mahmoud Ahmed Hosny from Egypt: Cornea and External Diseases
Sponsor: Alimera Sciences Ophthalmologie GmbH, Germany
Host: Prof. Berthold Seitz at University of Saarland, dept. of Ophthalmology in Homburg/Saar, Germany

"Being here in Homburg is a new experience for me that exceeds my expectations. I can learn from Prof. Seitz and his team how they can mange different and challenging corneal cases and I can practice in the wetlab. I think I am learning now at one of the best corneal centers in the world.
I want to thank Prof. Seitz and Alimera Sciences Ophthalmologie for such a great opportunity."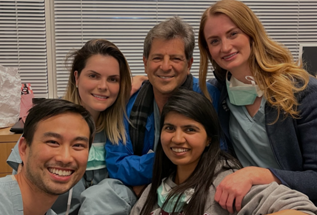 Dr. Pallavi Singh from India: Oculoplastic
Sponsor: Ophthalmology Foundation, USA
Host: Prof. Robert Goldberg at Jules Stein Eye Institute, UCLA in Los Angeles, USA

"I was fortunate to receive the IOFF's support to pursue my higher training under the mentorship of Dr. Robert Alan Goldberg. It has been a life-changing experience! I had the opportunity to learn newer surgical techniques such as endoscopic DCR, finer nuances of surgical planning, and also how to coordinate and carry out complex skull-base surgeries with interdisciplinary support. However, the most invaluable part has been my experience with Dr. Goldberg in the clinic. It has been a lesson in not only improving my diagnostic prowess but more so in developing a great rapport with patients I have also been able to work on some research projects with the UCLA team and am hoping for a few publications in the time to come. The cherry on the cake has been my wonderful colleagues who made me feel loved and cared for! I am indeed very grateful for the IOFF and Ophthalmology Foundation grant to enable such a wonderful learning experience."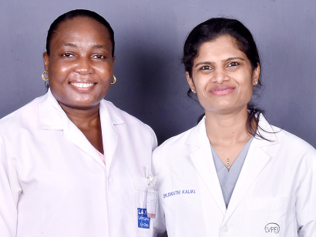 Dr. Bolajoko A. Adewara from Nigeria: Oculoplastic
Sponsor: Dr. Theiss Naturwaren GmbH, Germany and Dieter Mann GmbH, Germany
Host: Prof. Swati Kaliki at LV Prasad Eye Institute in Hyderabad, India

"I have now completed the first month of my 3-month Oculoplastics fellowship at the Ophthalmic Plastic Surgery Services Department of LVPEI, Hyderabad, India and my experience so far has already exceeded my expectations. The quality of teaching, training and the range of oculoplastic diseases has really expanded my knowledge.
I have found the staff to be friendly and welcoming and they have supported me in getting well integrated into the institute. I have worked under the supervision of Dr. Swathi Kaliki and five other Oculoplastic faculty members. I have observed several new techniques in diagnosis, treatment and surgery. They have also allowed me to assist them in patient evaluations in the clinic and during a few surgeries in the theatre. I have benefitted a lot from their wealth of experience. Dr. Swathi Kaliki has been a wonderful supervisor. My time and training with her has increased my knowledge and decision-making skills in Oculoplastics and Ocular Oncology in particular. I look forward to the rest of my fellowship training at the institute. I am confident that at the end of my fellowship, I will have achieved my goal of becoming a much better Oculoplastic surgeon and will be able to apply what I have learnt here to improve my practice in Nigeria. I will gladly recommend to my colleagues to apply for an IOFF Fellowship award at this institute."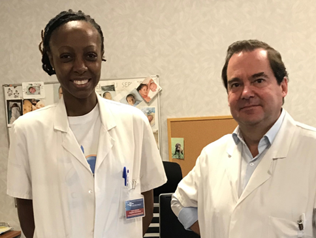 Dr. Sabrina Mukash from D. R. Congo: Glaucoma
Sponsor: Fondation Théa, France
Host: Prof. Christophe Baudouin at Hospital Des Quinze Vingts, Paris, France

"I am very impressed by Professor Baudouin, who welcomed me into his department. Very educational, he was available to guide me on the medical and surgical management of Glaucoma and other associated pathologies. This allowed me to better understand this pathology. I was also well received within his team and quickly integrated myself.
I sincerly thank the Fondation Théa, through Mr Jean-Frédéric Chibret, who agreed to sponsor my training. Their open-mindednedd and determination in the work particularily inspried me."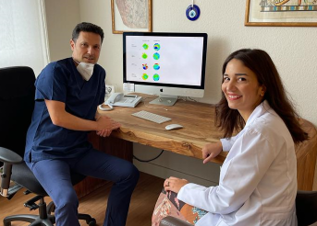 Dr. Burcu Yucekul from Turkey: Cornea and External Diseases
Sponsor: Willy Robert Pitzer Foundation, Germany
Host: PD Dr. Suphi Taneri at St. Francis Hospital, Münster, Germany

"I had really good time in Münster and this new experience exceeded my expectations. I had the opportunity to learn from Dr. Suphi Taneri and Prof. Dr. Arnd Heiligenhaus how to manage different and challenging corneal cases. I have been able to significantly enhance my surgical skills and knowledge in the corneal diseases. I have also been able to work on some research projects and I hope they will be published in time. I am very grateful to IOFF and Willy Robert Pitzer Foundation for giving me the opportunity to have such a wonderful educational experience."